We all know that half of eating is done with the eyes, especially with desserts: cakes, puddings and other delicacies must satisfy not only the palate, but also the sense of smell and sight to fully gratify us. An unusual aroma, a touch of colour, a delicious or elegant garnish represent the details which make a dessert unforgettable. In the assortment of Le delizie line you will find what ever you need to amaze your guests and tempt them through food!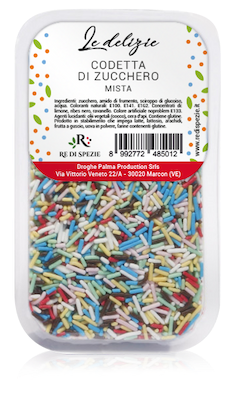 Le delizie
An explosion of colour and sweetness to enrich and make each dessert even more appetizing. The range offers delicious candied fruit, elegant sugar flowers, chocolate or multicolour jimmies and decorative candies to use for decorating cakes and desserts. In addition to this, the range proposes also flavours in vial and mignon drops that you can add to the doughs, in order to make them even more fragrant and delicious. In addition to this, there are also numbers, candles and tags to celebrate the most important anniversaries.
Check the list of le delizie
Flavourings
In order to offer our customers high quality standards and to improve the sustainability of production processes, the selection of Le delizie line is almost entirely produced in Italy. This means that the mix of Le delizie line is prepared, processed and packaged by companies which are active in our Peninsula. And as always, the taste of Made in Italy is highly recognizable and makes the difference!
Check the list of flavourings